Brian Bonds takes the 30MT Challenge!
Brian starts against the wall, his cock already bulging out of his underwear before Sebastian tears them away. He starts Brian with some light CBT before pounding away on the stud's chest with leather gloves. It's not until the flogger comes out that Brian starts screaming from the pain, before moving onto the pit.Brian is sprawled out and exposed for Sebastian to work him over with a caning. With a few good stripes down Brian's legs, Sebastian decides to add a series of clothespins to his chest to match. Brian can hardly handle the pain as the cat-o-nine tails whips against his flesh, so Sebastian rips the clothespins off and beats down the tender flesh before finishing him with one more whipping. Blindfolded and bound to the ass-less chair, Brian drools all over himself as a spider gag pries his mouth open. He feels the sting of the electric zapper prodding him all over his body and on his exposed ass. Sebastian then jams his hand up Brian's ass and fucks him without mercy. With a hand in his ass, Brian screams at the top of his lungs while being finished off with the zapper for one more round of abuse. After all three challenges, Brian has his cock milked until his cum is sprayed all over the floor.
Bound gym whore gets the cum fucked right out of his uncut cock
Jackson Fillmore waits on the dirty gym floor, gagged and immobilized as Jessie Colter finishes his workout. Now it's playtime, Jessie drags his boy across the floor and cuts away his underwear, exposing his hard, uncut cock. He teases Jackson's cock right until he's about to blow his load but Jessie has other plans. Clover clamps decorate across Jackson's hairy balls while another clamps his foreskin shut. Jessie then takes full mount and rams his cock down Jackson's throat before stringing him up for a flogging. Jackson wriggles in the air as the flogs rain down, completely inverting himself as he tries to escape Jessie's blows. The bound gym rat then finds himself beaten with the cane, his ass getting nice and tender before Jessie can slide his cock inside. Pounding away on his ass, Jessie milks the cum right out of Jackson's cock and feeding him the leftovers.
kink
y sex for BDSM virgin">Online hookup turns into a night of
kink
y sex for BDSM virgin
Eager and horny, Grayson Frost waits in his apartment for his online hookup to show. When Christian Wilde walks through his door, Grayson is in awe. Christian can tell the boy is a little nervous so he gets right to business, telling him: "When I play, I play rough. Don't waste my time." Before he knows it, Grayson is pushed to his knees. His arms bound behind his back before taking every inch of Christian's hard cock down his throat all while being beaten with his own belt. Bound for the first time in full bondage, Grayson attempts to touch his cock but Christian has other plans for him. He edges the boy's hard, uncut cock before ramming a giant plug up his ass to pry him open for Christian's cock. Grayson feels the leather paddle beat his flesh while servicing Christian's cock once more. Hot wax all over his balls and clover clamps across his chest, Grayson bites down on his ball gag as Christian removes the giant plug and replaces it with his giant rod. Once the clover clamps come off, Christian pulls the gag out of the boy's mouth and rewards him with a massive load.
Cock Workout
Jessie Colter heads into his private gym for a good pump, except this time, the only thing getting a workout is the giant cock of a bound Dolf Dietrich. He's held captive as Jessie seran wraps his mouth shut with sweaty underwear muffling his screams while pushed to the edge. Dolf moans at the top of his lungs once Jessie slides the cock sleeve on Dolf's thick member, so engorged that the toy can barely fit! Then it's time to take a look at the gym slut's meaty ass as Jessie rams a dildo up his ass, all while stroking his hard cock and denying him any pleasure. When Dolf least expects it he's tickled without mercy before finally shooting a hot load all over the gym floor.
CLICK HERE FOR FULL VIDEOS
Tyler Rush takes on ripped hunk Jonah Marx
Tyler Rush is back after a devastating loss and is hungry for another opportunity to fight his way to a cum covered victory. His opponent is definitely a challenge. With years and years of competitive wrestling under his belt, Jonah Marx is positive he's going to crush Rush. Tyler fights with all his might but Jonah's experienced holds are no match for him as he's pretzeled into a banana split. Jonah orders his new plaything to worship his hard cock as he wails on Tyler with the riding crop, his hard cock flailing back and forth as each blow comes raining down. Jonah breaks out the "fucks-all" to get his boy ready for the real thing. After pounding the boy's ass, Jonah pulls him up and blasts his face with hot cum, leaving Tyler, defeated, once again.
Hung stud finds a dirty bathroom pig to worship his giant cock
Greedy bathroom-pig Connor is perched in a grungy stall in the public bathroom anxiously awaiting more steaming golden showers when Max comes in, armed with a giant cock and an extra full bladder. Max drenches Connor, letting his fluids stream down the dirty sluts body and into his steadily filling funnel gag before dragging his filthy new plaything out of the stall and throwing him to the floor. After shoving his crotch in Connor's face and throat fucking him with his thick hard cock, Max spanks and hand gags Connor while playing with his tight pink asshole, enjoying Connor's screams as they echo throughout the bathroom. Connor is then tied up tightly and flogged mercilessly while gagging on Max's dick, his own spit dribbling down his body as he struggles helplessly. Finally Max decides it's time to give his boy his just desserts, and fucks him hard and fast against the urinals until Connor blows his load all over Max's boots. After Connor has licked all of his cum off of Max's boots, he sucks and worships Max's cock until he's rewarded with a huge thick load all over his face.
Welcome to the House, Master Boss
New House Dom Jordan Boss is hot, muscular, and equipped with a deliciously thick cock and a sadistic hunger for power that few can match! Eager to punish, Jordan finds House slave 996 awaiting him as a welcoming gift – and because no gift can be given without proper presentation, slave 996 is wrapped indeed; bound and struggling on a tiny pedestal at the mercy of his Dom. Jordan wastes no time removing 996′s jock, and begins punching and manhandling his writing gift before bending him over the pedestal and clubbing his toned ass with a rubber baton, relishing in his slave's screams of agony and pleasure. Next Jordan binds his slave to large, unyielding pieces of bamboo and flogs him mercilessly before fucking 996′s eager mouth with his domineering rock hard cock, demanding his submission and making him beg for a good hard fucking. Once the new Dom has had enough fun punishing his slave, he sets to work on his exceptionally tight asshole, slowly easing his dick farther and farther in until both studs are fucking in sheer exstacy. After railing his slave's ass into the dungeon floor, Jordan blows his huge hot load all over the place and finally permits 996′s release as well.
Muscular Straight Boy Edged in Bondage!
Jason Styles is a hot, buff hunk with a thick cock and can't wait to be edged… though he soon finds himself unprepared for the torments that await him! He is quickly stripped, bound to an unforgiving pipe frame, and tormented by Jessie's skilled mouth and hands as he writhes, bucks and begs for release! After even more edging with the flesh jack, Jason is hog tied and thrown on the bed, his tight ass exposed and ready to be penetrated. Jason is fucked, tickled, and relentlessly edged over and over until he finally blows his huge, hot load all over himself!
CLICK HERE FOR FULL VIDEOS
Bringing Back Some of Our Favorites!: The Indestructible Derek Pain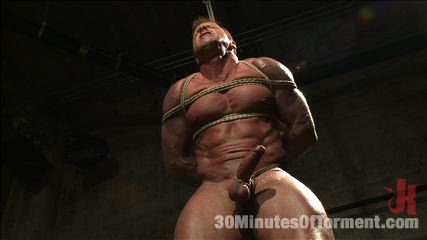 The Chair – Derek Pain begins his challenge bound in the chair as Van punches him in the chest and beats him with the crop. Clothespins are clamped across his chest and all across his balls as Derek screams at the top of his longs when each one is ripped from his flesh. The Pit – The bound body builder struggles to balance on stilts while enduring a flogging. After he's warmed up, Derek endures the biggest flogger Van possesses before he's taken off to the water chamber. The Water Chamber – Derek hangs, suspended over a giant water tank as he's dropped and plunges in face first. Clover clamps then pinch down his torso to keep him afloat before he's dunked back into the water. After three intense challenges, Van milks Derek's rock hard cock till he blasts his cum all over.