Cody Winter Discovers New Torments and Lets out His Inner Painslut
THE CHAIR – Cody is secured to a wooden chair before Van beats his tight body. Cody's screams echo across the room, only to be drowned out by the loud smack of a crop hitting against his flesh. After such relentless corporal, can Cody handle the clover clamps gripping his balls and pulling at his nipples? THE PIT – Overhead ropes hold Cody in place atop a tire, and ball gag keeps him quiet while Van brutally flogs him from every direction. Cody's held himself together so far, but the addition of ball weights could send him over the edge. THE ASS STATION – For his final challenge, Cody takes a ride on the Bad Dragon Carousel. Each of the Bad Dragon Dildo's in this massive rotating buffet is larger than the one before it, and they're about to fill Cody's tight hole. Cody stands over the carousel, and takes each dildo up his ass, while Van helps him along with the help of a crop and some clothespins. With his body battered and ass stretched, Cody can finally blow his load.
Lieutenant Wilde's Extreme Justice
Lieutenant Christian Wilde dedicated this entire week to making sure that his perp, Micah Brandt, spends a long time in the nearest penitentiary. Lieutenant Wilde's belief in the justice system is challenged when the Chief informs him that Micah is gonna be freed on Monday. Lieutenant Wilde realizes that it's time to dish out some justice, Bound Gods style. First he pins Micah to a holding cell door, and rips his flimsy clothes apart. Clover clamps attached to the cell door pinch Micah's nipples and hold him in place while Lieutenant Wilde torments his cock and balls. Micah is pulled off the cell door and takes Christian's massive cock down his throat. Lieutenant Wilde suspends his prisoner to the ceiling with his ass out and unleashes his just wrath across Micah's body as he flogs him without remorse. He then pulls out his night stick, and fills Micah's hole with the solid black rod. Micah thinks back fondly to his relaxing cell, when the night stick is quickly yanked from his ass, and he is barraged by the flogger. Micah happily takes solace in a new cell, with some extra rope restraints. Lieutenant Wilde doesn't like how relaxed Micah is, and decides to wake him up with the help of some hot wax. Lieutenant Wilde gleefully rams his giant cock deep in the inmates hole. The fucking is intense, but Micah can't help but shoot his cum across his chest. Micah then feels Lieutenant Wilde's cum flood across his face, as he awaits two more days worth of cum and torment in Lieutenant Wilde's holding cells.
MOE Cumpilation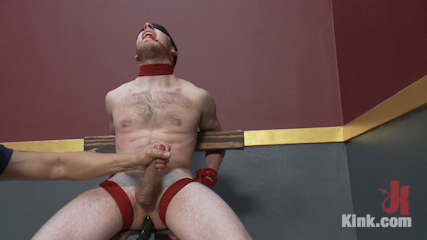 We got something a little extra for you:
men on edge put together a compilation of our favorite cum shots. A semen-drenched tidal wave of hot guys blowing their loads from intense edging. Gallons and gallons of jizz erupting from swollen balls and gigantic dicks. How long can you last edging yourself through this video?
CLICK HERE FOR FULL VIDEOS
Perverse Gardener Brutally Torments Southern Straight Boy
After his earlier encounter with two horny home invaders, all Zane Anders can think about is a good fuck. One day Zane stares out the window admiring his sexy gardener, Sebastian Keys', hard body. Zane makes his move, and Sebastian is quick to accept, but on his terms. Sebastian likes it rough, and quickly grabs hold of Zane, ripping his clothes apart. Zane's cock grows in Sebastian's gripped hand, while Mr. Keys' other hand pummels his chest and tugs on his balls. Before Zane realizes what's happening, he is down on the floor with a spider gag in his mouth, and Sebastian's cock in his face. The hard cock slips past the spider gag and fills Zane's whore mouth. After some intense cock sucking, Sebastian pulls Zane's mouth off his cock and ties Zane to the stairwell. Zane is flogged front and back until his body is red, and he is screaming in agony. Sebastian soothes him by fucking his tight hole on the stairwell, before sending him upstairs. Zane gets to spend some quality time chained in his closet while Sebastian attaches forceps all across his body, and beats him with a crop. Zane finally gets a chance to rest in his bed while Sebastian fucks his ass, and strokes his cock. Euphoria overcomes Zane as he lets his cum fly across his chest. The gardener is satisfied with his work on Zane, and finishes things by filling Zane's mouth with hot cum.
Uncut Stud Edged Beyond His Limit in Stocks
Cody Winter is new to bondage, so Sebastian invites him over to
men on edge for a hot session of restraint and cum denial. Sebastian leads Cody into a dark room and locks his hands, neck and ankles into vertical stocks. The rush of this new experience gets Cody's uncut dick pulsing with excitement as Sebastian plays with his foreskin. It doesn't take many strokes before Cody begs to cum. Sebastian only replies with nipple clamps and more edges. He takes out the fleshjack and makes Cody thrust into it if he really wants to cum so fucking bad– pulling it away right before he explodes into it. Sebastian decides Cody has too much freedom, so he adds two more stocks to hold Cody's torso and thighs in place for more painful edges. Sebastian pulls Cody down from the stocks and secures him to a table to get a closer look at his lean body and beautiful toes. He throws Cody's legs back and makes an entire Bad Dragon dildo disappear into Cody's hungry asshole. Sebastian rocks Cody's prostate with punches to the base of the dildo, giving another edge to the whimpering stud. At wits' end, Cody finally has permission to cum after pushing the entire dildo out of his ass. His dick bursts a bucketload of hot jizz– paid for with a painful tickling and apple polishing immediately after.
CLICK HERE FOR FULL VIDEOS
Two beefy hunks duke it out – Loser gets covered in hot wax & fucked!
Two hot newcomers step on the Top Cock mat this week. First up we have boy next door, Jordan Boss. A novice when it comes to wrestling, but after years of playing football, Jordan's ready to lay his opponent to waste just like he did out on the field. Kaden Alexander comes to us with military training and says he eats chumps like Jordan for breakfast. It's muscle on muscle as these two hunks duke it out. Despite a few injuries, these two horny studs hold nothing back to ensure their victory. The loser gets nothing but total domination and humiliation as he's tormented with hot wax and a vicious fucking up his ass. The winner decides to take a load off and has the loser ride him like the bitch he is, until blasting a hot load of cum all over the winner's chest. After licking up his mess, the loser has his mouth pried open to receive a winner's load.
Rikk York Loves to Lick Leather while being Chained and Flogged
Rikk York expects his day to end with a quick fuck from the massive hunk he just met. What Rikk fails to realize is that this hunk is Trenton Ducati, and he likes to play rough. Trenton takes Rikk to a nice secluded spot and quickly tears away all his clothes. He then chains Rikk against a pillar, and viciously flogs every inch of his body. Trenton takes a moment to let Rikk rest, by chaining Rikk to the wall and filling his mouth with Trenton's massive cock. Trenton holds Rikk's mouth against his cock while repeatedly pummeling him with a crop. Rikk can't help but want more. Trenton presents his boot to his fuck slave, and tells him to start cleaning. Rikk runs his salivating tongue across Trenton's thick black boots until they glisten in the daylight. His master is pleased. Trenton rewards him by bending him over and tongue fucking his ass before shoving his throbbing cock inside. Rikk is in ecstasy as his arms and legs are chained to the wall, while Trenton continues to fuck his tight ass. Trenton grips Rikk's dick and starts stroking. Cum flies from Rikk's cock and covers his chest. Trenton wants his fuck toy to be drenched in cum, so he pulls his cock out of Rikk's ass and blows his load across his bearded face.
A Date with Mr Wilde
Christian Wilde takes fuck stud, Dale Cooper, back to his place for a passionate night of hard sex, and intense torment. Christian presses Dale against a wall and beats him mercilessly. Christian's hands pummel Dale's boy, intimately beating every part of Dale's chest and ass. Dale crumples to the ground, and comes face to face with Christian's huge cock. Dale is then suspended in the air while Christian brutally flogs every part of him, before moving in close and filling his ass with hard cock. Dale can't get enough of Christian's cock, and readily receives more anal while hogtied on a bed. The hard fucking sends Dale over the edge as he blows his load all over himself. Christian relaxes next to his cum covered fuck slave, and strokes his cock until he adds another layer cum onto Dale's tight body.
Home Invasion: Straight Boy Captured and Edged
A man's house may be his castle, but that's not enough to protect straight, southern boy Zane Anders from Van and Jackson. They prowl quietly around his house, spying on the hottie as he works out and showers. When Zane enters the basement, his captors spring their trap. Zane tries to fight them off while they bind him to a chair and strip him down. The feeling of two men all over his body gives Zane a raging hardon. Jackson peels back Zane's underwear and wastes no time worshipping his beautiful dick. Zane moans with nipple suckers on his chest while Jackson sucks him to the edge over and over. Meanwhile, Van fashions an edging masterpiece from an air compressor and a fleshjack. The suction from Van's invention drives Zane crazy, almost exploding as it goes full blast. But his torment is only starting. They drag him to his bed and admire his asshole. Jackson mounts Zane and rides him to edge after edge before blowing a load all over Zane's straight face. This is too much for Zane, who finally explodes a gallon of cum from balls. But Van and Jackson don't give Zane a moment to catch his breath– they tickle and apple polish him.
CLICK HERE FOR FULL VIDEOS