Cancelled Birthday Party Becomes a Messy Edging Party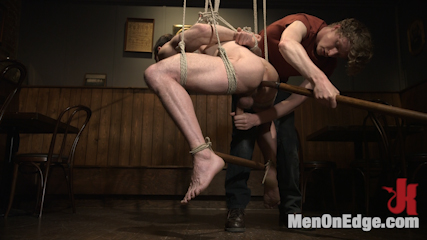 Branden Forrest waits at the bar to surprise Sebastian Keys for his birthday. As the night winds down, Sebastian never shows up, so Forrest starts flirting with the hot guy tending drinks, Brandon Blake. With nothing else to do for the night, Forrest offers to show Brandon offers a bigger tip if he demonstrate little thing or two about edging for the bartender. Brandon agrees and spreads his muscled arms across the bar, held down tight with ropes while Forrest strips his body. With a blindfold over his eyes. Brandon's senses are left to focus on the slightest sensations running down his cock as Forrest brings him to the edge of cumming. Forrest takes Brandon to the back of the bar and secures his torso from the ceiling. With no control over his body, Brandon twists against the ropes and pleads for an orgasm, but Forrest only intensifies the pleasure. He rocks Brandon's prostate with a dildo as Brandon swings in the air. Forrest ties Brandon back down to a table and gives Brandon a sensuous blowjob. Van finally arrives with Sebastian's cake — but learning that Sebastian won't make it — decides to put the cake to use. They spread the cake's creamy icing all over Brandon's body while he takes messy edge after messy edge. Brandon finally blows his load, the cum thickly garnishing the sticky mess all over his muscles. Van and Forrest won't let Brandon off so easily; at Brandon's first sigh of relief, they torment the stud with a wild tickling.
CLICK HERE FOR FULL VIDEOS
Slave #523 Endures Tape Dom's Brutality
Slave #523 is diligently attending his cleaning detail when he receives an assignment to a new master in the house, Tape Dom. #523 accepts a roll of duct tape and takes a deep whiff of the adhesive. He finds himself caged, face fully wrapped in a duct tape puppy mask. The Tape Dom wants to play with his puppy, so he pulls him out and doles out a cropping before fucking #523′s Oxballs Pig-Hole. #523 comes off the floor and has his hands taped tight to a bar overhead, his body open for a flurry of hits from his master's flogger. Tape Dom slams #523 into the wall and secures his body firmly in place with only tape to support him. Stuck against the wall, #523′s is rammed relentless by his master. Tape Dom finally wants to grant #523 the privilege of his cum, so he bursts all over #523′s duct tape gag. #523 accepts a second privilege, taking orders to cum all over his master's boots. Cum everywhere, #523 resumes his cleaning duties and uses his tongue to make his master's boots and floor spotless.
Chris Burke Goes Balls to the Wall with Jackson Fillmore
kink.com/imagedb/39829/v/h/320/39829_2.jpg" class="alignleft" />
Its Chris Burkes raw muscle versus Jackson Fillmores limber, flexible physique on todays Top Cock. Both these dudes are chomping at the bit to humiliate their opponent athletically and sexually in the ring. In the first round, Burke uses his brute strength to pin Fillmore repeatedly – but finds his match in Fillmores quick and clever legwork. The second round piles up sex points as the wrestlers grope, facesit and finger their way to the final whistle. The winner emerges with a resounding margin and wastes no time dominating the loser with his cock. He jackhammers into the losers face before taking the bitch for a pony ride. Steering his prize to the center of the ring, the winner throws the losers legs behind his head and fucks him so hard his own cock is pushed into his mouth. The loser gets a face full of his own cum before the winner doubles the mess with his load.
Jessie Fulfills His Fantasy: Introducing His Hot Friend to Bondage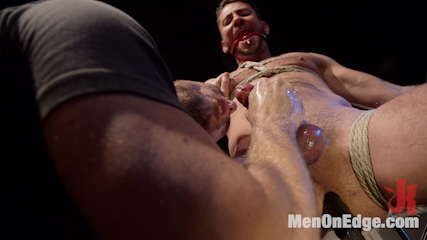 Owen Powers and Jessie Colter are hanging out over at Owen's place when their conversation moves to the topic of bondage. Owen have never been tied up, but it just so happens that Jessie has always had the fantasy of wrapping Owen's muscled bod in tight ropes. Turned on by the suggestion, Owen decides to give bondage a try. Right in the kitchen, Owen is bound tight to chair and blindfolded while Jessie takes full control. He strips the stud down, admiring his ripped physique. It only takes seconds before Owen's dick swells to full attention. Over and over, Jessie passionately jerks and sucks Owen's cock just to the point of orgasm — but never over the edge. He takes Owen into his bedroom and binds him upright with his legs spread, leaving his ass wide open for the Shock Spot. Owen grinds against the machine fucking him as Jessie gives his friend edge after edge. The pressure is unbearable for Owen, begging to cum as Jessie straps him to his bed and continues to work his throbbing dick. Jessie takes advantage of Owen's spread eagle posture and tickles him all over before plowing his ass with a vibrating dildo. Owen finally has permission to cum and blasts a hot load onto his abs. He taste of his own seed before Jessie quickly returns to torment with a rough apple polishing.
CLICK HERE FOR FULL VIDEOS
No Mercy for Jackson Fillmore: Beaten, Electrified, Humiliated & Fucked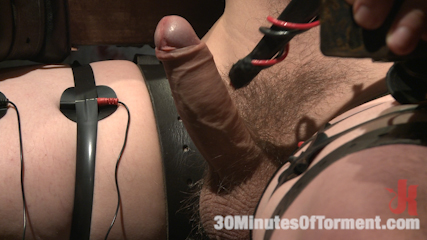 Jackson Fillmore is a full-time BDSM lifestyler. Is his experience enough to help him endure 30 minutes of excruciating sadistic torment until he blows his load? THE PIT – Strapped down to the platform, balls secured tight to the front, Jackson stands completely immobile and must face a serious torrent of corporal punishment. Van starts with open palms and fists to tenderize Jackson's flesh before flogging it raw. THE CHAIR – Jackson sits in the electric chair, his lower half already starting this round with a painful current through his thighs. The torment intensifies with more electrodes clamped to his balls and an electrified butt plug deep in his hole. Van zaps Jackson's erect cock and runs electric arcs from a violet wand all over Jackson's body and straight into Jackson's ass. At the final moments, Van fries Jackson with the electrodes turned up to full power.THE GIMP STATION – Jackson has to make his cock hard for the gimp's arrival while Van lands sharp hits from the crop all over Jackson's ass. The gimp plows into Jackson with a raging hard-on as Jackson grits his teeth and moans. With his back splattered in hot wax, Jackson rides the gimp as he jerks off. Jackson successfully blows his load, but the clock is still ticking. His face gets smothered in the gimp's cum and Van finishes Jackson's 30 minutes with a wicked beating.
Hesitant Stud Transformed into Mr Wilde's Bondage Slut
Max Woods moves nervously through a dingy warehouse– not exactly what he expected for an internet hookup with Christian Wilde. He finally finds Christian's door and enters his dungeon workshop to find a trove of intimidating toys and bondage devices. It all quickly becomes too much for Max, who tries to call off the date. Christian doesn't have time for any of Max's wavering attitude, so he slams the boy into his bondage ladder and secures him to it. Roped down to the ladder, Christian treats Max to a cocktail of pain and pleasure, using his riding crop to edge Max's throbbing dick. Max submits to Christian's hard cock before his ass and back are flogged beet red. Christian moves Max to his bondage table and affixes electrodes to the boy's nipples and cock. Max tries to fight against the heavy wooden blocks bolting him to the table and the electric current running through his body, but to no avail. Christian fucks Max's face as the boy begs for his cum. After dousing Max in hot jizz, Christian throws the wimp out. As Max exits the warehouse, he is overcome with horniness and jerks a load in the hallway.
Straight Jock Begs to Cum with a Dildo in his Ass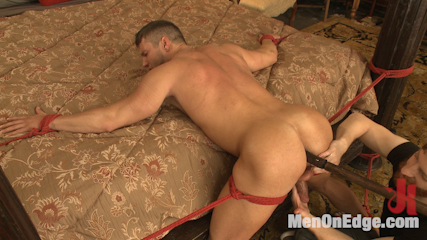 Van and Sebastian find straight hottie Rod Peterson waiting for them in one of the Armory's bedrooms. Wasting no time, they tie bind him to the windows and wrap his eyes with a blindfold. They remove the clothes from his muscled body and start stroking his dick. After edging his gorgeous dick repeatedly, they place him in front of a mirror to watch himself with a man's hands and mouth all over his cock. Rod goes wild as he girds against the ropes and begs to cum. Sebastian and Van move his straight ass to the bed and bend him over for a dildo fucking. Rod grants control to the two as they wrap him in tight canvas straps and torment his throbbing dick with more and more edges. Finally, the stud is allowed to cum, but not before a vigorous tickling of his vulnerable feet. Covered in cum, Rod squirms in the straps as Van and Sebastian get back to tickling him all over.
CLICK HERE FOR FULL VIDEOS
New Dom – Strong, Silent with a Wicked Smile
Slave #998 awaits his new master. Experienced in the house, #998 thinks he can serve any dom's whim's and desires. Jason Maddox arrives in a brisk fashion. Collected and calm, yet radiating a sadistic nature, Mr. Maddox wastes no time testing #998′s resolve with an electric zapper. Mr. Maddox strikes #998 over and over, coldly asking #998 why he's being hit. Mr. Maddox teases #998 with his hard cock, denying the slave until he's sure the cock hungry slut truly deserves it in his mouth. The cruelty continues as #998 gets chained to wall by his neck and flogged raw. Mr. Maddox tosses #998 into a tractor tire and paints the slave red and black with hot wax, paying special attention to his sensitive nipples and balls. He finally rewards #998′s devotion with a hard fucking and covers the slave's ass in more wax. With his ass reamed by his master, #998 dutifully takes his orders to cum and milks a load from his dick. Satisfied by his slave, Mr. Maddox glazes #998′s face with hot jizz.
Jason Styles vs. Josh Conners: Tall beefy studs slam on the mat
kink.com/imagedb/39922/v/h/320/39922_2.jpg" class="alignleft" />
Here to prove themselves on Top Cock for the first time, Jason Styles and Josh Conners arent going to hold back. With MMA training under his belt, Jason feels more than cocky about taking his opponent down in style and then fucking his ass. Josh laughs off Jason, confident that his gymnastic, flexible body will break any hold and flip the game on his opponent. After a wild and sweaty match, the winner gives his opponent a victory round hell never forget. The loser gets tossed like a ragdoll from a rough blowjob to a face-smothering rimming. The winner makes the loser ride his triumphant cock and has him beg for harder and harder pounding. When the dust settles, the loser is left covered in a gallon of cum.
Taken from His Girlfriend and Edged in a Dark Factory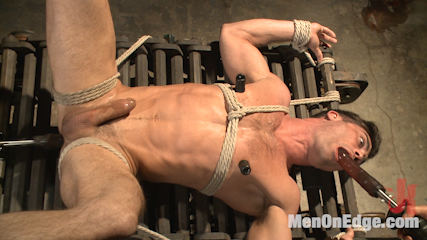 Lance Hart thought he would be whisked away to sweet slumber next to his girlfriend, but his dreams instead become a real-life nightmare when two burglars break into his bedroom. They drag him kicking and screaming to an abandoned factory and tie his ripped body to an old generator. Unable to fight off his captors, Lance endures a confusing mix of fear and pleasure as he's stripped nude and has his cock played with. The soft, sensual blowjob is too much for Lance, grinding against the ropes and begging to cum. The burglars increase the pressure welling up in his balls with a tight rope pulling his sack to his ankles. Though his cock is ready to explode out of the rope, Lance's night has only started. They stretch Lance over a rack and continue edging him repeatedly before turning their attention to his hole. Any thought of his girlfriend vanishes when the burglars jackhammer his prostate with a fucksaw. With his back arched high on the rack, his ass plowed and no control left over his body, Lance finally gains the privilege of cumming– with the fucksaw ramming him on full blast. His captors leave him catching his breath and covered in cum on the rack.
CLICK HERE FOR FULL VIDEOS