Straight hunk Jimmy Bullet pushes his limits to the max!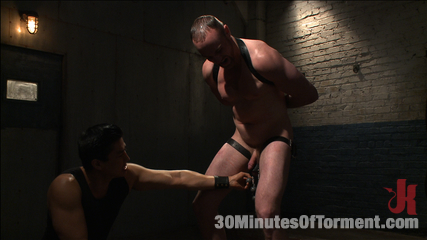 Padded Cell – Straight stud Jimmy Bullet thinks he's ready for the test that 30MT has in store for him. He starts off in the padded cell with a straight jacket on to keep him in place. Van beats his ass red and ragdoll's him around the cell, stomping on Jimmy's balls before taking him off to the pit. – The Pit – With his hands behind his back, Jimmy has weights added to his balls for extra torment as his backside is beaten with the flogger. Once his balls are nice and tender, Jimmy moves on to his final challenge. – The Water Chamber – Chained to the wall, the bound stud has clover clamps attached all across his torso and even on his balls, the pain driving him crazy as water is sprayed on his clamps. Screaming at the top of his lungs each clamp is removed from Jimmy's tender skin before he's challenged to cum.
Branden Forrest and the excruciating ass station challenge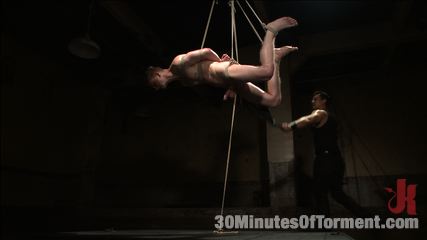 The Wall – Branden Forrest strips down to his jock as his hands and feet are chained to the wall. Van tears away the boy's jock and gets his big uncut cock rock hard. The boy's pale skin quickly turns red as punches rain down on his chest before he's beaten with the flogger. – The Pit – Branden awaits with his arms bound behind his back as his tender ass is beaten with the crop. Suspenden in the air, Branden's tied down by his stretched nuts as he's mercilessly beaten with the flogger even more. – The Ass Station – His ass stretched on The Bad Dragon dildo, Branden winces in pain as he's beaten with the crop and made to blow his load.
Muscled stud Brock Avery Tormented and Fucked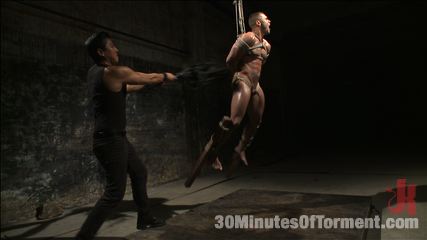 The Wall – Muscled hunk Brock Avery begins his challenge with his hands and feet chained to the wall as Van pulls on Brock's cock and balls. The bound stud screams in pain as Van viciously flogs him before taking him to his next challenge. – The Pit – His legs bound to stilts, Brock struggles to balance as he's tormented with the electric zapper. Weights are added to his nipples as he's relentlessly beaten with the flogger once more. – The Gimp/Water Chamber – While riding the gimp's massive hard cock, Brock has clothespins clamped across his torso, screaming in pain as the crop beats his tender skin. After blowing his load, Brock's tied down on his back as water blasts him in the face as the gimp relentlessly fucks his hole before giving him a face full of cum.
Helpless boy beaten into submission and made to swallow cum
Bound by belts and blindfolded in a dark workshop, Dakota Wolfe can only whimper as Adam Herst finishes polishing his favorite riding crop. Adam gropes and torments the boy, using his handyman creativity and tools to rearrange ever more intense positions for his plaything. He sets Dakota in an inverted suspension and then doles out a vicious flogging. The boy gets placed in a stockade bed, his ass caned and mouth gaped with a spyder gag. Adam feeds Dakota his cock before pounding his ass into the night. Dakota blows his load first, while fucked on his back, legs tied to the bedposts behind his head as the crop whales down on his thighs. Grateful for his treatment, he readily accepts Adam's hot cum and swallows it all.
Jacob Durham gets oiled down, beaten, and fucked like an animal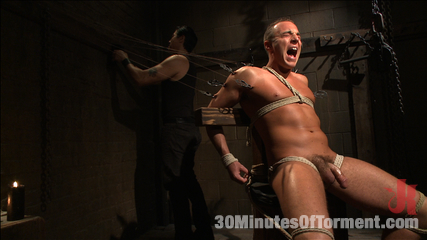 The Pit – Muscled stud Jacob Durham begins his first challenge in the pit, his arms bound behind his back as Van gets his fat cock hard. Jacob endures torturous ball squeezing before he's warmed up with the flogger. – The Chair – Bound to the chair, tight clover clamps are attached all over Jacob's torso and balls. He pushes through the pain of the clamps on his tender skin before Van surprises him with hot wax all over his body. Covered in a mess of wax, Jacob screams at the top of his lungs as each clamp is removed. – The Gimp Station – Jacob's muscular body is oiled down before enduring a caning on his ass. The muscled stud is flipped over on his back as the gimp is let loose on Jacob's hole. After a ferocious fuck, Jacob receives a face full of the gimp's cum before he's challenged to blow his own load as his final task.
Top Cock: MUD WRESTLING!
kink.com/imagedb/37396/v/h/320/37396_2.jpg" class="alignleft" />
Cocksure studs Jessie Colter and Jimmy Bullet face off on Top Cock, each confident in an easy victory. So, the contenders up the ante: they tangle hard bodies in a slick and messy mud-wrestling bout. The loser finds himself bound and blindfolded, made to suck winner dick, all the while facing extra humiliation in a chastity cage. The winner then pushes the loser's anal limits with a succession of huge Bad Dragon dildos. It's almost mercy when the winner trades his cock for the dildos and delivers a rough fucking before finishing off the loser with a cum glazed facial.
Officer Maguire edged and gets an electric buttplug for the first time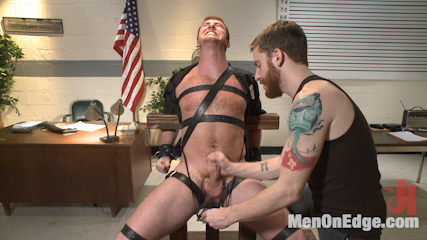 Officer Connor Maguire is on the beat at the Armory, this time subjecting a graffiti spraying punk to a full cavity search. Sebastian walks in on the hot interrogation and gets a little inspiration from the sight of the new hunky guard. Sebastian binds Officer Maguire to a chair and subjects him to continuous edging and tormenting his nuts with the ball crusher. Sebastian hogties the officer in a padded cell and keeps denying that thick cock while worshipping Connor's feet. Officer Maguire gets flipped over and is introduced to the electric butt plug for the very first time. With his prostate buzzing, Officer Maguire finally gets permission to cum and blows a hot load before he screams for mercy from tickle torment.
CLICK HERE FOR FULL VIDEOS
Straight stud John Smith gets beaten, choked and made to cum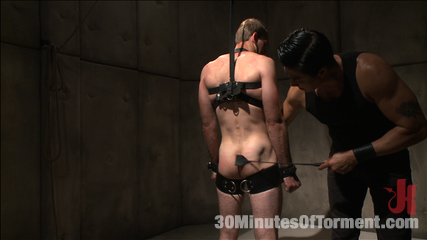 The Wall – Straight hunk John Smith is chained to the wall, his jock removed as Van begins the torment. He pulls and twists on John's balls before giving them a good flog. After enduring punches to the chest, John moves on to his second challenge. – The Chair – Strapped down tight in the chair, the straight stud endures electricity all over his body as electrodes shock his skin. An electric butt plug is shoved up his ass making John's cock rock hard. – The Pit – Finally in the pit, John has his hands bound to his thighs as he's beaten with the riding crop. After pushing through his three challenges, John's lifted in the air by his neck as he's made to finally blow his load.
Head Buzzed, Ass Stretched and Water Tormented to The Extreme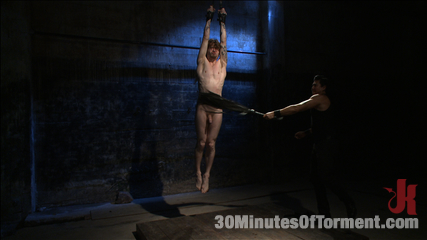 The Pit – Straight hunk Patrick Knight starts his first challenge in the pit, his hands bound above his head as Van gets his big cock nice and hard. After a few warm up punches, Patrick's balls are pulled till he's up on his toes before Van suspends him in the air. As Patrick dangles, he's given a beating with the flogger before being taken to the water chamber. – The Water Chamber – Bound in rope, Patrick's fully submerged in water as Van holds his head down. Patrick tries to hold his breath as long as he can before having the pillowcase over his head and repeatedly dunked again and again. – The Ass Station – The Bad Dragon dildos await Patrick in the ass station. He warms his hole up with the small one while enduring the riding crop whipping his torso. Van gives Patrick's head a shave before making him shove the big dildo up his ass and ordering him to blow his load.
Gym jock taken down and edged against his will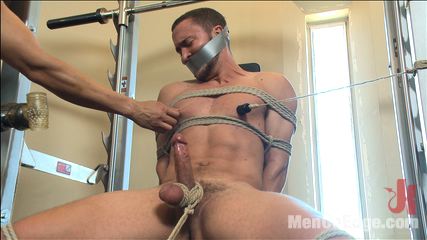 Sebastian is working out at the gym when he notices hunk Colt Rivers lifting some weights. Quickly, Sebastian finds Van cruising in the locker room and tells him about the hot hunk waiting for them outside. They pounce on Colt from behind and tie him down to the machines with duct tape covering his mouth. The two pervs tear away Colt's clothes and get his cock hard, despite his efforts to resist. His balls are tied down to the dumbbell as they tease him with vibrator's on his cock, edging him just until he's ready to blow. Standing with his hands behind his back, Colt's edged once more before he's suspended in mid-air and made to suck Sebastian's cock as Van milks him from behind. With the cock in his mouth, Colt begs to cum but instead the two tickle the hell out of him and tie him down to the bench. The two shove a vibrator up Colt's ass as Sebastian swallows the boy's hard cock. After milking a load out of Colt's cock they finish him off with some post-orgasmic torment.
CLICK HERE FOR FULL VIDEOS